What is an Autoresponder? An AWeber review from me to you, as I just took them up on their 30-day FREE trial.
The money is in the List! or, so I keep reading. Why do I need a list? You get my drift! It is all rather confusing when you are first starting out building your legitimate online income from scratch.
In all reality, you do not need a list until you first have traffic going to your website. So, you don't need to start paying for an Autoresponder until you have a need for it! If your site is not ranking and you are not getting traffic through the searches engines, then why pay for software you don't NEED yet?.
All that aside, now that your website is generating traffic and you are ready to start building a lucrative mailing list of your own, let's look into building a list and automating your messages.
I have chosen to go with AWeber as my email autoresponder as I used them a long time ago when I first dabbled in affiliate marketing. Way back then, I paid for an Autoresponder, as I thought I needed one, although I had no traffic at the time. Suffice to say, I cancelled it after a few months. Lesson learned!
Many years later … My website is generating traffic… It is time to start capturing leads…
What is AWeber Autoresponder?
AWeber is a Pennsylvania based company and has been in the email marketing software business since it was founded by Tom Kulzer in 1998. It is an Autoresponder that automatically sends out an email message to someone who has requested information.
Email marketing and automation tools
Turn passive prospects into loyal customers with mobile-responsive email
Take advantage of AWeber for its award-winning 24/7 customer support, 450+ integrations and free mobile apps to grow and manage your email lists.
How Does AWeber Autoresponder Work
AWeber is an opt-in email marketing service used by small businesses, bloggers, and entrepreneurs around the world.
AWeber is a great email marketing program that is easier than ever to leverage professional automation and create multiple autoresponder campaigns in your account
By setting up a simple sequence of emails to be sent automatically on a schedule of your choosing. AWeber has web-based tools designed to help your business grow, by keeping you in touch with customers and prospects via email automatically.
Some Amazing AWeber Features
Email Sign Up Forms

Create mobile-friendly sign up forms that your subscribers will be drawn to.
Customize Absolutely Everything
By using the AWeber sign up form generator you can create simple yet powerful signup and/or opt-in forms. You can customize your design to match your brand. Add custom fields to learn more about your subscribers, as well as useful forms to tag and segment subscribers to enable you to deliver automated email campaigns to a targeted audience.
Grow Your Email List Easily
With AWeber, you will find hundreds of ready-to-use templates at your fingertips. It is so easy to create professional-looking sign up forms for your business within minutes.
Use Flexible Display Options
AWeber looks good on any device when you create dynamic opt-in forms. By choosing to embed your forms on your website, in-line within a blog post, or build pop up, pop-over and even lightbox forms that slide or fade in on a preset time delay.
Attract New Subscribers Directly on Facebook and WordPress
Easy form integrations to attract new subscribers directly on Facebook and WordPress. You can add a form to a Facebook page. Also, link a form to your Facebook subscribe button or put your form on your WordPress website or blog.
May The Best Form Win

Split test your forms! Create forms with different offers or copy, see which one attracts the most subscribers.
Grow Your List On The Go

Sign up forms, never leave home without them! AWeber Atom APP is a mobile sign up form that lets you add new subscribers to your email list any time, anywhere.
What Will AWeber Cost to Set Up?
AWeber has an ongoing promotion that allows you to try AWeber Free for 30 Days. Although it is free you will need to submit your Credit Card details upon sign up.
Get all the tools you need to succeed for $19/month for up to 500 subscribers and unlimited emails.
What is Included in Your AWeber Account:

Access to their email experts who are there 7 days a week to help you grow.
Easy-to-use tools to help you create emails, sign up forms and more to engage your subscribers.
Industry-leading deliverability to help make sure your emails make it to the inbox.
Simple email automation to get the right message to the right person at the right time.
Connect to social media, landing pages, shopping carts and many more integrations to get the most out of your email marketing campaign.
Is AWeber Autoresponder a Scam or Legit?
Simply put,  AWeber is one of the best email Autoresponders on the market and is legit in the eyes of Legitimate Online Income.
LEGITIMATE – AWeber is a reasonably priced, easy to use Autoresponder that contains most of the key features you would expect to find in an automated email marketing solution.
My #1 Choice: AWeber Email Autoresponder
Without the features of AWeber, I simply would NOT be able to keep in touch with my subscribers as I can now with the aid of AWeber's automated set-up.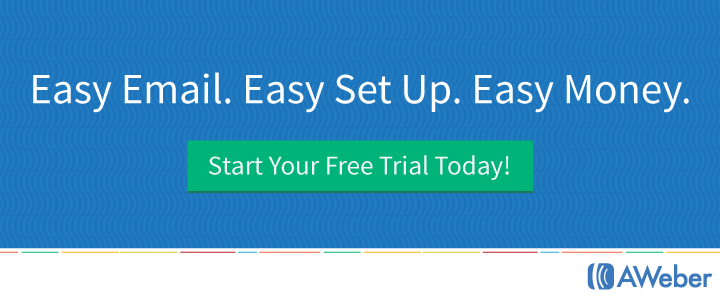 If you are in need of an email autoresponder, AWeber is my #1 recommendation to build your subscriber list.
Go check them out for 30 days on them!